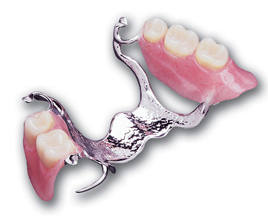 Full Upper and Lower Dentures
Partial Dentures
Metal Dentures
Dentures are a removable appliance to replace your missing teeth. In most cases dentures are made out of acrylic or cast metal. If you have lost all of your teeth a complete or full denture can be made.
Using the latest impression and bite registration techniques, everyday tasks like eating and talking correctly will be restored.
If you have lost some of your teeth but not all, a partial denture may be the solution to a new smile. There are different types of partial dentures available, depending on your needs the Prosthetist will determine the most suitable.